Futurepia Mainnet
What is a DDPoS Algorithm?
Futurepia's BP works on the consensus algorithm called 'Dual Delegated Proof of Stake (DDPoS)'.
In order to better understand the DDPoS, let's first dive into the timeline of some famous consensus models of other blockchains.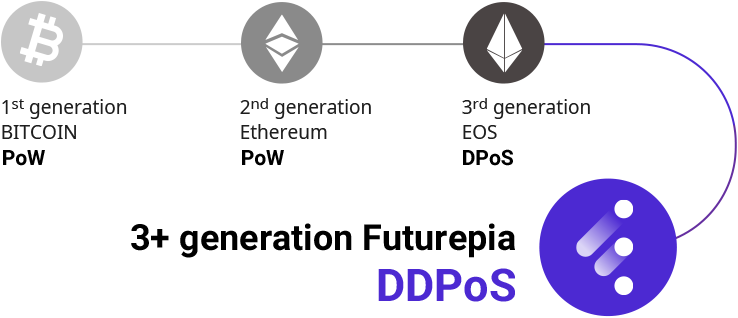 01Proof of Work (PoW) – 1st Generation (e.g Bitcoin)
PoW forms the foundation of Bitcoin's block production algorithm. In PoW, miners having high-tech equipment solve the mathematical problems and once the equations are solved, miner publishes its solution to other miners and if 51% of the miners agree on the answer, the consensus is reached and block is added to the chain. The miner who solves the problem first gets a compensation fee as a reward from the network.
02Proof of Stake (PoS) – 2nd Generation (e.g Cardano)
In POS, instead of miners, there are validators. The validators stake some of their tokens in a specific wallet address for a set period of time. Following that, the validators bet on the blocks that they feel will be added next to the chain. When the block gets added, the validators get a block reward in proportion to their stake. The more tokens you own, the more block creation power you have.
03Delegated Proof of Stake (DPoS)
– 3rd Generation (e.g EOS)
DPoS follows original PoS consensus model with improved speed, compromising the security. DPoS can be considered as democracy in blockchain where coin holders vote to select delegates also called 'block producers.
DPoS provides faster processing of transactions than both PoW and PoS, yet DPoS has certain flaws like security, lesser decentralization etc. In DPoS, 21 block producers participate in the block production but since the BPs are exposed and the voting is too low, this algorithm makes the BPs vulnerable to hackers' attack.
04Dual Delegated Proof of Stake (DDPoS)
– 3.5th Generation (e.g Futurepia)
DDPoS is a new consensus algorithm that solves the speed issues of PoW & PoS and security issues of the DPoS method. The main features of DDPoS are:
- In order to resolve the issue of collusion or an attack against certain BPs, a block observer (BO) system, in which the BOs arbitrarily selected in each round participates in the block generation process alongside the BPs, has been introduced.
- DDPoS works with 21 BPs out of which, 17 are Master Nodes and 4 are randomly selected Block Observers.
- Because there are 21 definite block producers that produce a block every 3 seconds, it takes 63 seconds to determine irreversibility.
- For a transaction to be stored on the blockchain, 11 out of 21 BPs need to agree.